Here at T&C, we pride ourselves on our discerning eye for quality. With Tried & True, our editors will give you an inside look at the pieces they simply cannot live without.
---
In the post-pandemic travel boom, I've become much more efficient about my packing. With more places to go, much more to do, and fewer reasons to check luggage, I've learned that every single piece of space in my hand luggage and carryon bag must be optimized, and of course, what I bring with me must serve a purpose. For many years now, I've sworn by the bag-within-a-bag method of packing, utilizing Cuyana's Travel Case sets. But now I've gotten a serious upgrade in the form of Cuyana's new Travel Beauty Case.
First, this case, unlike its sibling duo, is a bit more structured. The hard(er) walled rectangular shape is perfect because it has a relatively slim profile, so it fits neatly into luggage when you're playing tetris with your belongings. The way it slides in with my compression packing cubes? Pure satisfaction. But beyond the structure, the interior design of this case is fantastic. Not only does it have an internal elastic pocket to tuck your travel beauty goodies in place, but it also has an area to hold makeup brushes and even a removable zipper pouch. This keeps items organized in one area, and for me at least, ensures that what I pack is what I use—limited space means I have to be extra choosy. A streamlined routine is the best routine. You get the picture.
More From Town & Country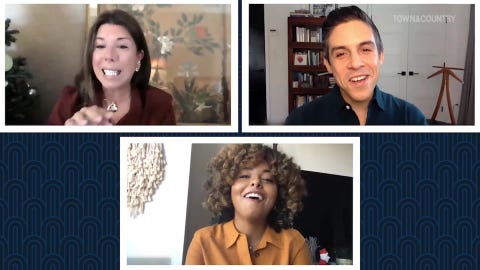 I also love that I can tuck my Manta brush and a makeup sponge or two into the brush section, and then tuck travel dental care (of course with liquids stored separately) into the zipper pouch with things like bobby pins, scrunchies, and hair clips. I find with this travel case, I can fit what I need, and most importantly see all of it, which removes the stress of getting ready and settled.
As for my much beloved travel beauty case duo, I still use those, but to hold my medications and various health necessities like my vitamins and supplements, and the smaller case in the duo, I carry around as my day-to-day makeup case holding everything from breath mints to my lactaid and whatever makeup I need to touch up throughout the day.
Also, the new beauty case—because you can see every nook and cranny—is so easy to clean! Love. If you are a frequent traveler or have someone you know who is and you happen to need to get them a gift, the Cuyana Travel Beauty Case is the one I suggest.